Guiding You Into the Future of Investing
The NAOI had developed, and continues to develop, a full range of unique products and services aimed at meeting our Mission of empowering individual investors. In addition we research and develop products for the financial services industry that enable them to provide investing products and services that the investing public wants and needs. This page shows and discusses NAOI products and services that will be available in the online store that will soon to be implemented on this site.
Be sure to join the NAOI Alerts Mailing List found at the bottom of any page on this site to be informed immediately when the Store comes online and when new products/services are available in it.
The Dynamic Investment Bible
The first major new release resulting from NAOI research will be a book/course related to Dynamic Investing Theory and the creation of Dynamic Investments. Both of which are discussed on this site.
Written for both the average person with money to invest and financial professionals, this easy to read and understand book explains the basics of a fundamentally new way to invest called NAOI Dynamic Investing Theory. The pre-release cover is shown at right.
Dynamic Investing Theory is a remarkably effective approach to investing that replaces traditional "static" methods with new "dynamic" ones that work in modern markets. This is a fundamentally different approach to investing that can either be combined with traditional methods or used to replace them altogether!
The new theory creates Dynamic Investments, a unique investment type that constantly monitors the market and automatically changes its holding(s) in response to current market trends. The goal of these investments is to only buy into markets that are moving up and to avoid or sell markets that are moving down.

This book shows how any individual, regardless of experience level, can implement simple Dynamic Investments on their own, or in conjunction with an advisor, and how each has the potential to earn 20%+ average annual returns in virtually all economic conditions. It also shows financial organizations how to prepare for and take maximum advantage of this new wave of investing.
Dynamic Investment Application White Papers
The Dynamic Investment Bible book described above teaches you the basics of how to take advantage of Dynamic Investing Theory (DIT) and the use of the Dynamic Investments that it creates. Yet there are an unlimited number of applications of this new approach to investing in the real world of investing. To assist you in taking full advantage of these applications the NAOI will periodically publish DIT application White Papers such as those shown at right.
For example, the use of Dynamic Investments has the power to completely revolutionize the world of 401(k) Plans. And while this application is briefly mentioned in the Dynamic Investment Bible, a more detailed discussion is warranted. To provide this additional material the NAOI will release an Application White Paper on this topic as shown in the list at right.
Take note of the titles of the White Papers shown at right. They serve a wide variety of audiences from individuals who want a detailed description of how to implement Dynamic Investments using an online broker to how Financial Advisors can take maximum advantage of this new investment type.
DIT Application White Papers will be released periodically by the NAOI and made available in the NAOI online store on this site in either hard copy or PDF format. The NAOI will announce all new releases in this area via the Update Alerts Email List that you can sign up for at the bottom of this and all pages of this site.
The NAOI Individual Investor Certification Program
For over a decade the gold standard of effective investing courses has been the NAOI Individual Investor Certification Program. It consists of 5 separate courses that are shown at right. Thousands of individuals have completed this Program and demand remains high.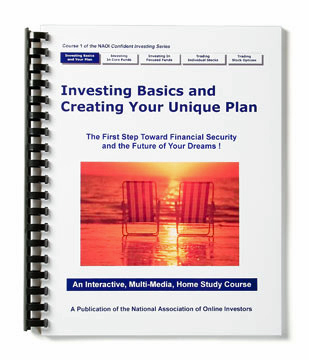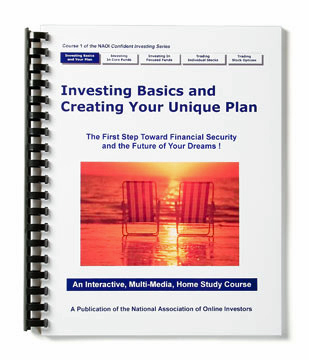 The total Program consists of close to 800 pages of easy to read content presented in a multimedia format. The public has told us that they want a hardcopy book to be able to read anywhere and anytime at their leisure. But they also want an online component for each book that gives action oriented tools that will enable them to transform knowledge into action. Thus each book has an online component that can include such resources as printable worksheets and checklists, online calculators, interview forms and continually updated links to the best financial resources on the Web.
This Program can also serve as the starting point for the Customized Education Courses that the NAOI offers to financial organizations as discussed below on this page.
At the time of this writing in early 2016, each Program course is being reviewed, updated and modified to include the most up-to-date material. There is a significant amount of new material that will be introduced for 2016, including the use of Dynamic Investment Theory. Release of an update version is expected in the first quarter of 2016.
At the time of this writing in early 2016, each Program course is being reviewed, updated and modified to include the most up-to-date material. There is a significant amount of new material that will be introduced for 2016, including the use of Dynamic Investment Theory. Release of an update version is expected in the first quarter of 2016.
NAOI Focused Investing Courselets
The NAOI Education Research Section is constantly surveying the public to ensure that our education offerings meet their needs. Recently we have seen a tremendous demand to supplement our basic investing courses with education on more focused topics such as Annuities, Reverse Mortgages and other topics that the industry is pushing with great vigor. These are areas in which the potential is high for under-educated people to make very bad decisions The public needs to know both the pros (that they are getting from the sales pitches) and the cons (that they will get from NAOI education) for each of these products.
To meet this need for more focused education the NAOI is creating a series of "Courselets" in the format shown at the right. Each deals with one topic that the public has expressed an interest in learning about. Courselets provide a student with the knowledge and tools to completely understand the topic being covered. In addition most Courselets will include an interview/question sheet created by the NAOI that the student will require the seller to complete and sign! Sellers who refuse should be avoided.
Students of NAOI Courselets may find themselves knowing more about the product in question than the seller!
In addition to new investing "wonder products" there has always existed a need for the public to better understand a variety of focused investing areas that are critical to a secure financial future. NAOI surveys show a remarkable lack of education in such areas as Social Security benefits, Retirement Accounts, How Use the Web to Analyze Investments and more. We will be developing Courselets for each to fill this education void.
Note: If you are a financial professional we invite you to sponsor and write one of these NAOI Courselets. We will give you the specifications and if accepted you will be given full credit as an NAOI "expert" related to the investing area involved!
Build-Your-Own Study Course
The NAOI Investing Research Division is pioneering an innovative education approach in the form of the "Build Your Own Study Course" product. Many people want comprehensive, general investing education. Others are interested in just those investing topics that affect them. When the NAOI Store is created on this site you will have the option to build your own personalized investing course by combining any of the education products we offer. Just select the areas of interest to you and we will combine them into one Investing Course that is unique to your needs and at a price lower than if you order each Course or Courselet separately.
Product Alerts!
To be immediately notified when an NAOI Education product is available in the online Store sign up for our Update Alerts Email List at the bottom of any page on this site.
Products for Professionals and Financial Organizations
The above discussed products are designed to empower individuals to become more formidable, confident and demanding clients of the financial services industry. The NAOI products / services discussed below are designed to enable financial professionals and organizations to better meet the needs of this new type of client as well as to take advantage of the new wave of Dynamic Investing that is fast approaching.
DIT Seminars
The NAOI offers on-site Seminars to financial organizations that wish to learn more about Dynamic Investment Theory, ask questions and gain a more in-depth understanding of how this new approach to investing can fit into their strategic plans. All such Seminars are conducted by DIT architect Leland Hevner.
DIT Training Classes
The NAOI offers a series of DIT Training Classes that teach financial professionals how to work with Dynamic Investments. One class teaches developers how to create their own unique Dynamic Investments. Another class shows organizations how to plan and create a complete Dynamic Investment product line. Yet another class teaches organizations how to market and sell this exciting new approach to investing to the public. NAOI classes can be either taught on-site at an organization's offices or at our facilities in Tampa, Florida.
Consulting
The NAOI is prepared to work with any advisor or financial organization to seamlessly integrate Dynamic Investments into their product offerings. As part of a consulting engagement the NAOI will provide customized advice and a detailed plan that will enable any organization to take full advantage of Dynamic Investments without disrupting current revenue streams.
Customized Education Courses
From NAOI surveys of the investing public we know that the one benefit that would be most successful at attracting new clients is investing education. Many organizations now offer education related to their specific products but they don't offer the basic, comprehensive and objective investing education that the public wants.
The NAOI is the market's leading expert in creating and delivering academically rigorous and objective investor education courses. We can create a comprehensive education course for any financial organization that blends objective investing education with education related to the benefits of an organization's unique products. And we can do this rapidly and cost effectively using as our starting point the NAOI Individual Investor Certification Program mentioned above.
Customized Investor Education Courses will either be either presented with your organization's brand or they can be labelled as "Presented in Cooperation with the NAOI". The public will recognize the NAOI as the market's most trusted name in investor education. And they can be presented entirely online or your organization's branch offices can coordinate with the NAOI to teach them on site. As an additional exciting option, we can do both by providing an introductory session in your offices and then letting students study on their own online!
Speaking Engagements
NAOI President and architect of Dynamic Investing Theory, Leland Hevner, is available for speaking engagements. His topic? The Amazing Future of Investing!
Yes, there are dozens of speakers who will talk about the "future of investing". Typically their content deals with economic factors such as increasing deficits, the coming crash of Social Security, actions by the Federal Reserve, world turmoil and market trends. And then there are those who talk about things like robo-advisors and "intelligent portfolios" as being drivers of investing's future. None of this is very exciting and is likely to put a large majority of the audience to sleep.
In contrast, Mr. Hevner's presentation on the future of investing presents a unique and bold vision that is logical, exciting and controversial. He doesn't bore the audience by guessing at economic trends or future market movements. He doesn't suggest changes that merely "tweak" the way we invest today. Rather, he suggests throwing out much of today's "settled science" methods of investing and replacing them with methods that actually work in modern markets!
Hevner will even show how the world of investing can be "productized" through the creation of investments and portfolios that are NOT based on the risk tolerance of individual investors. "Productization" is the Holy Grail of investing that financial experts have been seeking for decades. They haven't found it. Hevner has. His claims are all backed by scientific method and empirical observations. And he likes nothing more than a spirited debate about the legitimacy of his claims.
If you are an investing club, your members will want to hear Hevner's presentation. If you are hosting a panel of experts as a part of a Seminar or Financial Convention, your attendees will want to hear Hevner's viewpoints. If you want to stage a debate of any type for any audience related to the future of investing they will want to hear Hevner present and defend his arguments as well as poke holes in the views of other participants with views that are more "industry acceptable." Mr. Hevner's presentations are controversial, intriguing and never boring.
Leland Hevner is an experienced presenter with 15+ years of teaching investing at the college level and many TV and Radio appearances - refer to the About Leland Hevner page on this site as well as the NAOI Press Room. Then contact him using the Contact page to book a speaking engagement.
Free, But Valuable, Stuff
Hevner's Blog - This site hosts an investing information Blog written by NAOI President, Leland Hevner. Virtually every day he scans the financial media. When he finds the rare article, idea or product that can assist individuals in making effective investing decisions he will bring it to the public's attention via a Blog post. Such a post will include Hevner's analysis and comments as well as Web links if appropriate. The Blog will also be one of the NAOI's conduits for communicating our research and development activities to the world. The Blog is available for free on this site.
NAOI Newsletters - Also free of charge will be the upcoming NAOI Investing Research Center Newsletter. On a periodic basis Hevner will discuss the areas of investing that the NAOI Research Center is exploring. He will explain the topic being researched, the status of the project and even ask for input from NAOI members as discussed in on the Memberships page of this site.
Contact Us
The NAOI will soon implement an online store on this site where our Books and White Papers can be purchased. To discuss taking advantage of the NAOI services discussed just above, please contact us using the following information:
Email: info@naoi.org
Phone: 813-949-3817
Mail: NAOI, 23343 White Magnolia Pl., Suite 201, Lutz/Tampa, Florida 33549
Update Alerts
Products and Services mentioned on this page will be released at a rapidly accelerating pace beginning in January of 2016. Signup to our Updates Alerts Email List at the bottom of each page of this site to be informed immediately when the online Store is implemented and when any NAOI product is available in it.