The NAOI Is the Market's Premier Provider
of Objective, Comprehensive Investor Education
The first component of NAOI investor empowerment is education. It is an unfortunate fact that in today's financial world comprehensive and objective investor education is virtually nonexistent. Most individuals are forced to seek education from investment salespeople and biased recommendations too often result.
Academia is strangely absent in this area. Where have any of us been offered a serious course in personal investing in either high school or college? The answer is "nowhere." The NAOI was founded to fill this void and to provide the objective education that the public needs to become confident and effective investors.
The NAOI's Education Background
The NAOI was established by Leland Hevner in 1997 with the mission of teaching individuals how to invest. During that period anyone with a computer and an internet connection suddenly had the power to invest on their own using an online broker. But nowhere had they been taught how to invest. Power without knowledge is a dangerous thing and many individuals lost a lot of money by engaging in such activities as day trading without understanding how investing works.
Investor Certification
To address this problem the NAOI created the "NAOI Individual Investor Certification Program", the first comprehensive and academically rigorous investor education program available in the market. It is discussed in more detail below on this page. Finally individuals had a resource that could empower them to become informed, confident and effective investors.
Since its introduction thousands of individuals have graduated from the NAOI Investor Certification Program and the NAOI has become the market's leading supplier of comprehensive investing education untainted by sales bias.
Since 1997 the NAOI education offerings have expanded significantly as explained below on this Web page.
NAOI Education Advantages
It is not hard today to find all manner of "investor education" offerings in the form of books, seminars, trade shows, continuing education classes, etc. But it is hard to find such offerings that are not trying to sell you something. Objective investing education, having as its only purpose to improve the investing skills of the student, is virtually nonexistent. This is why the NAOI stands apart from other purveyors of so-called investing education today - our education products are completely objective. Here are several reasons why we dominate the field of investor education:
Objectivity - The NAOI is not controlled by any financial organization. We offer nothing but objective, comprehensive, high-quality investor education. Our books and courses are not biased toward any specific investment product or financial service.

Student Feedback - The NAOI has been teaching the art and science of personal investing for close to two decades. Each year we evaluate our books, courses and seminars based on student feedback in order to meet the needs of changing investor demographics.
 
Dynamic and Innovative Education - Investing is not a static field of endeavor. It is always changing. NAOI education products are continuously updated to include new developments in the field and also to address major changes in how the market operates. The NAOI also has a Research Division that is capable of creating new investment products and methods to improve how investing works in areas where we find the way investing works today to be inadequate. The creation of Dynamic Investment Theory is an example.
 
Actionable Education - Too many investor "education" books available today are read and then put on the shelf never to be picked up again. NAOI education products are a different type of resource - they are "actionable". In addition to education content, NAOI courses point to online resources such as calculators, worksheets, checklists and Web sites enable students to transform knowledge into action. As such, they are designed to be referenced regularly through an individual's investing career.
No other organization has the investing knowledge, the teaching experience, the student feedback channels and the education knowledge base (discussed next) that the NAOI owns. These factors and others enable the NAOI to stand alone as the nation's premier supplier of effective investor education.
The NAOI Education Knowledge Base
One of the NAOI's greatest assets is our Investing Knowledge Base. This asset includes thousands of pages of investing course material that we have created over the course of two decades of teaching thousands of individuals the art and science of investing. We currently own copyrighted and fully edited material that address virtually all areas of personal investing.
The knowledge base content is constantly refreshed based on new developments in the market, new resources available on the Web and most importantly based on feedback from our students. It is the NAOI Investing Knowledge Base that enables us to rapidly and efficiently create new NAOI investing courses for sale to the public and to create customized education courses for our partners in a full range of areas including academia, financial services, 401(k) Plans, etc.
NAOI Education Products Categories
Investor education is a vast field of endeavor and investors come with all levels of experience and financial profiles. Therefore a comprehensive investor education solution must be equally vast and varied. That is why the NAOI doesn't simply offer "how to invest" books, rather we offer an entire product line of investor education solutions. Regardless of an investor's experience level or educational needs, the NAOI has an education product that works. An overview of the NAOI investor education product line "categories" is shown below.
Category 1: New Development Education
One department of the NAOI is devoted to Research and Innovation. We cannot meet our goal of empowering investors by using traditional investing methods, many of which cannot cope with modern markets. When we develop a new investment type or methodology such as Dynamic Investment Theory the Education department of the NAOI communicates it to the world not via marketing brochures but via a first-class education offering.
At right is the cover of the NAOI book / study course that describes Dynamic Investments and teaches both the public and the financial services industry what they are and how to use them. In the NAOI corporate structure our Research and Education Departments work closely together to meet our mission of providing the public with comprehensive investing solutions.
To Purchase this book click here.
Category 1A: Dynamic Investment Application Reports
The Amazing Future of Investing book mentioned above teaches the basics of Dynamic Investing. Yet there are an unlimited number of applications of this new approach in the real world. So, there is a need for what the NAOI calls Dynamic Investing Application Reports that focus on how this new investing approach can be used in specific areas of investing.
Dynamic 401(k) Plans Application Report
For example, the use of Dynamic Investments has the power to completely revolutionize the world of 401(k) Plans. And while this application is introduced in The Amazing Future of Investing book, a more detailed discussion is warranted. To provide this additional material the NAOI has created an Application Report on this topic as illustrated at right.
Such Application Reports are available by request from the NAOI to individuals who have purchased The Amazing Future of Investing book. Application Reports will typically be less than 20-pages in length and offered in downloadable PDF format. with a hardcopy format available at a minimal charge.
Refer to the "For Professionals" area of this site for more information.
Category 2: Basic Investor Education
The NAOI knows that there is a tremendous demand for a clear, concise and simple book on the basics of investing.
We provide one each year with the above title followed by a year so that it is constantly up to date.
"Beginners" books will contain not only basic information such as a description of stocks, bonds, mutual funds, ETFs, etc but also action items such as calculators, checklists, evaluation forms for both advisors and advisor recommendations and a list of the most valuable sites on the Web for transforming education into action.
Since a portion of this information will change on a yearly basis we will publish a new Beginners book each year. Join our Alerts Mailing List, at the bottom of this page, to be notified when this book is available.
Category 3: The NAOI Investor Certification Program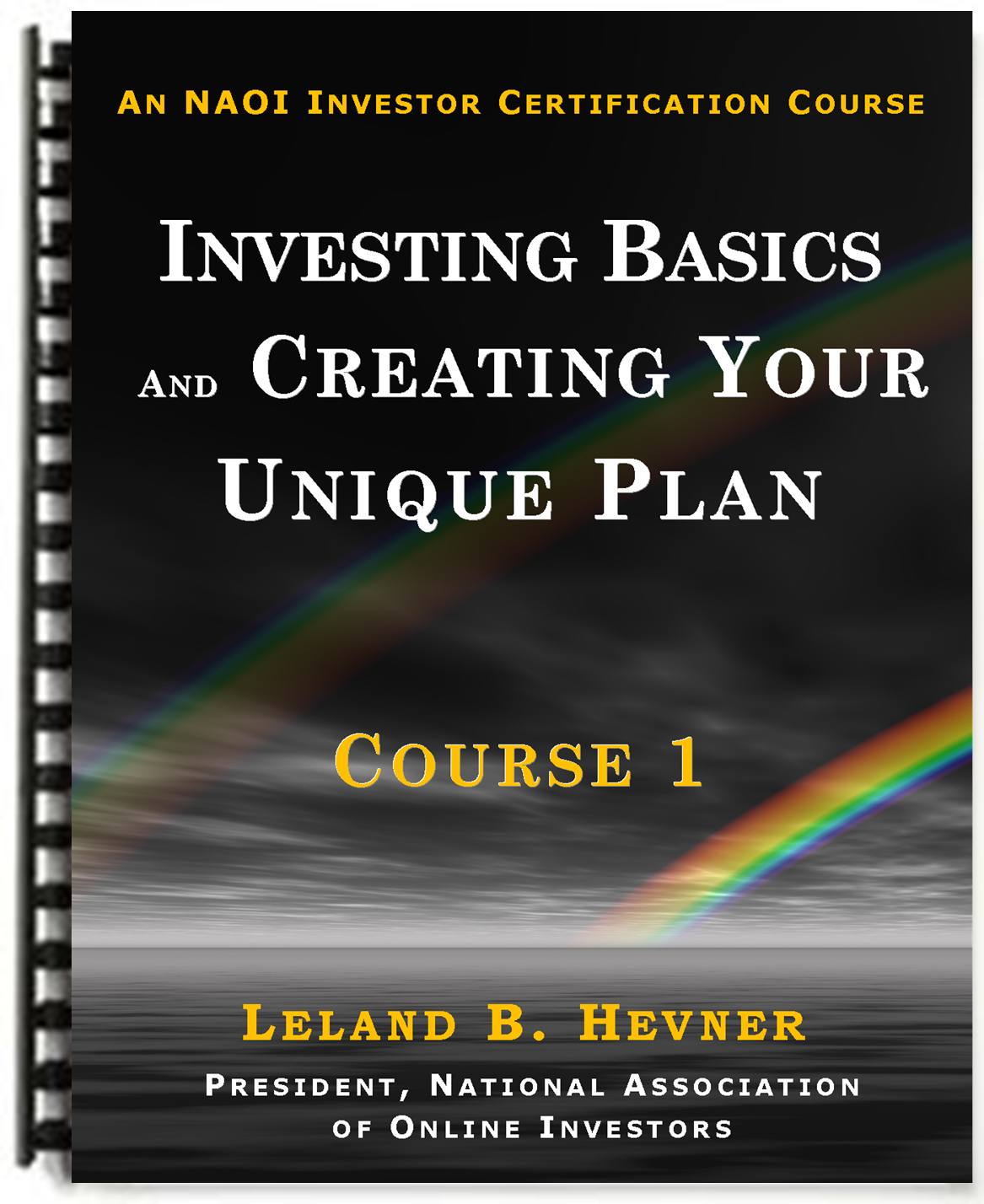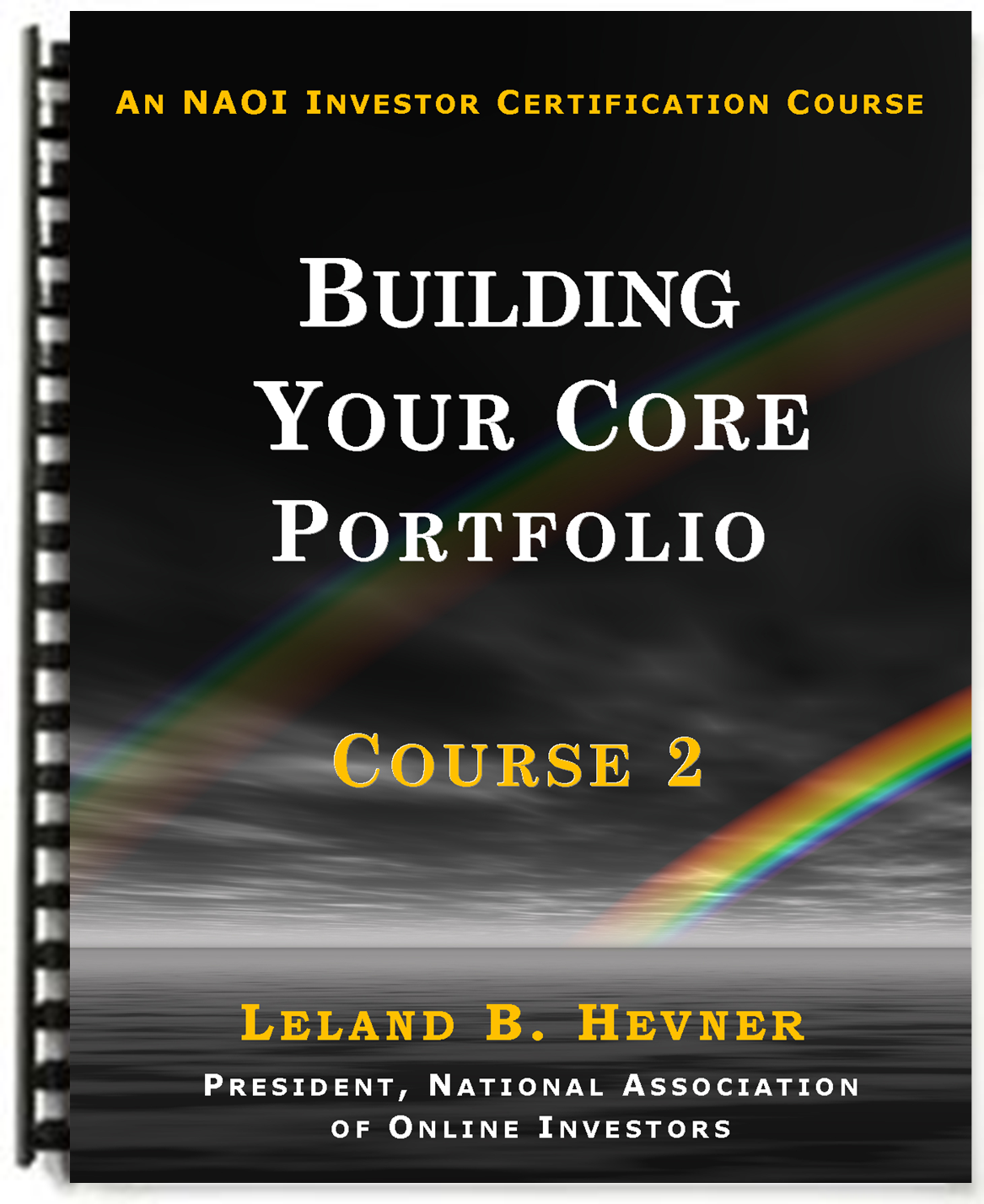 Stepping up a level from single books, the NAOI offers comprehensive education for a full spectrum of investing topics via the "NAOI Individual Investor Certification Program".
Consisting of 5 books as shown at right, this is the gold standard for comprehensive and academically rigorous investor education in the market today. Each book is approximately 150 pages in length resulting in a study course of close to 750 pages of material. Click the arrows at right, or each book cover along the bottom, to view each title.
The NAOI Investor Certification Program is the course in investing that should be offered in every institute of higher learning in America, but is not. It is only available from the NAOI.
Note that this Program is periodically refreshed as the field of investing changes. Thus there will be times when it is not available in our online store. The NAOI will not teach outdated techniques and at the current time we are in the process of integrating Dynamic Investment Theory into its content. We will post it in The NAOI Store when it is relesed. Join our Email Alerts list for immediate notification.
Category 4: Customized Education Programs
The investing public has told us that the one benefit that a financial organization can offer that would give it a massive competitive edge in the field is an objective course in investing education.
They have also told us that they would like to be able to study this course using a hardcopy book with a companion online component. They told us that they were not attracted by education "sound bites" presented online or via Webinars. They wanted to be able to study the material at their leisure using a good old-fashion book. Some organizations may find this surprising and perhaps millennials will disagree, but investors of Gen-X and Baby Boomer eras want a book!
The NAOI is ready and able to work with any financial organization who wants to meet this need. We will work with you to create a customized education course that will include both basic investing knowledge as well as how to transform this knowledge into action using YOUR specific investing tools and services. We would closely tie the hardcopy book to your site where students can either get more information on a specific topic or actually access your tools.
The customized course can be branded with your organization's name only or labeled "Created In Cooperation with the NAOI" as shown in the example cover at right. The NAOI is recognized in the market as an objective supplier of quality education and a link with us can add credibility to the offering.
Contact us to discuss how we can work together to provide you with this offering that will help your organization stand-out in a crowded field.
Customized Education Courses for Financial Advisors
Surveys of NAOI members and students show that when choosing an advisor or financial firm with whom to work the number one benefit that will attract them is the offering of objective investing education courses. Yet such offerings are rare in the industry. Herein lies a tremendous opportunity for a financial organization or advisor to gain a massive competitive advantage by working with the NAOI. Contact us. You can have a customized course to offer in weeks!
Academic Partnerships
Academia is strangely absent when it comes to providing investor education courses. The NAOI has been teaching personal investing courses at the college level for close to two decades. These are comprehensive and objective courses with no sales bias. Via an NAOI Academic Partnership we can work with any institution of higher learning to share/license the course content that we know to be effective for empowering individuals of all experience levels to become confident and effective investors. Or we can work with an institution to design customized course material. We can assure you that these are classes that will be significantly over-enrolled each time they are presented. Refer to the Join Us area of this site where Partnerships are discussed.
The Nation's One-Stop-Shop for Investor Education
You can see from the information on this page why the National Association of Online Investors (NAOI) is the market's primary source for comprehensive, objective and academically rigorous education. We create investing education courses based on the wants and needs of the public - and we are constantly asking for input from the thousands of individuals who are NAOI students. No other organization even comes close to the variety and quality of investing education products we offer. Please feel free to contact us with any questions and comments or to start a conversation of how we can work together.
Stay Informed
Signup to our Updates Email List on the bottom of any page of this site to be alerted to when NAOI Educational Products and Programs become available.